My Ideal Day…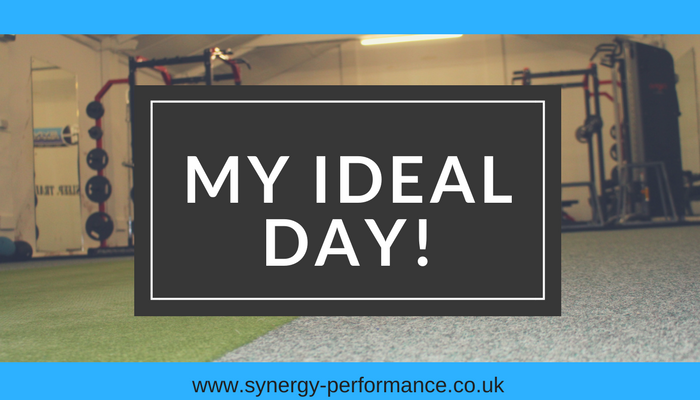 Now this is my ideal day in terms of health and fitness. Not my ultimate ideal day as I am not that sad.
If I had sufficient time to train, eat, sleep and move the way I wanted to then this is how it would go down. Now you may say that if these things are so important then surely I would make time for them.
Well the truth is I do. Just not everyday as life gets in the way sometimes.
Ok here goes.
I would wake up after 7.5/8 hours sleep as this amount is great for me and I feel good for the whole day. I would consume my go breakfast of 4 scrambled eggs with some vegetables through it and this would be washed down by my greens smoothie. So this would constitute my first meal of the day.
I would then do a 20 minute mobility session to help keep my body moving well and pain free. This is made up of various exercises/movements working different parts of the body. I would follow this up with a 30/40 minute walk at an easy pace. Again this gets me moving outside in the fresh air.
Going back to the eating side of things I would have a snack of Greek yoghurt with some fruit and a naked bar and then lunch would be Salmon with vegetables and some rice or quinoa. These two meals would be spread out by a few hours depending on hungry and activity levels.
My last bout of exercise of the day would be a gym based training session. This session would focus on big compound movements such as squats or deadlifts along with some other movements such as pull ups/push ups/Overhead Press and some kettlebell work.
I would have a post workout shake filled with milk, water, oats, protein powder and some fruit. This will help to start refueling the system after the work out. I would need to fit some dinner in at some point to complete the day. This would be a chicken stir-fry with lots of vegetables and maybe some noodles/rice.
This would be an ideal training/eating day for me and doing this consistency will keep me on the right track and moving forward. Some of the details will change on a daily basis like ingredients of food and exercise selection in the gym but the principles remain the same.
This is not everyday, just an example of a really good day.
What would yours look like?